About the Seattle Seafair Indian Days Powwow
United Indians of All Tribes Foundation (UIATF) holds the annual Seafair Powwow at its Daybreak Star Indian Cultural Center. Attendance over the 3 day event ranges in estimates from 10,000 to 16,000 attendees, including visitors, dancers, musicians, vendors and tourists.
35 years of Seafair Powwows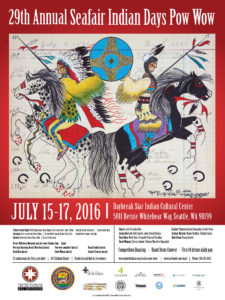 It is a proud tradition that brings Native Americans of all tribes and cultures together to celebrate. UIATF has held the 3 day long celebration in conjunction with Seafair for the past 35 years.
The powwow showcases traditional Indian cooking, jewelry-making, music and especially dancing. Throughout the day, tribes from the United States and Canada dance in full tribal regalia and eagle-feather head-dresses.
Seattle Powwow History
Held during Seattle's Seafair in July, the Powwow averages 400–600 dancers in full regalia, 25 drum groups, and 10,000 spectators which come to celebrate the richness of the Native American culture.
For the past 33 years, the Seafair Indian Days Powwow has been a staple of the Seafair celebrations. Not long after Daybreak Star Cultural Center opened, United Indians began the annual tradition of hosting a Powwow. In the early years, huge crowds were drawn to Discovery Park to witness the celebrations and enjoy the food and art vendors who return year after year.
During the 2011 celebration, Seattle Mayor Mike McGinn renamed the road leading up to Daybreak Star "Bernie Whitebear Way" in honor of the late activist and leader who made the Powwow what it is today. In his remarks at the naming ceremony, McGinn honored Whitebear, saying "He left a tradition in this town that we can all draw inspiration from. That people without power can have power." With these words in mind, the Pow Wow continues to be a celebratory weekend of Native American heritage and culture.
2015 Powwow Video

Location:
Daybreak Star Indian Cultural Center in Seattle's Discovery Park. Map and Directions
Support the Powwow
It costs over $100,000 to put on the event, including a dedicated event coordinator and hundreds of volunteers. You can help make the 2023 Powwow a success with your generous sponsorship or donation! Thank you and see you in July.