What to Expect:
Powwow highlights:
Traditional singing and dance contests
Drum contests
Native American arts and crafts
Authentic food booths
Salmon bake and fry bread
Crowning of Seafair Powwow Princess
Dancers will be in full regalia (native dress). These are not costumes. Many wear traditional face paint.
Competitions are by Dance type, Gender and Age. See Schedule for details on the program for each day.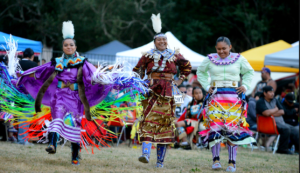 Photo Credit: Jack Storms
Powwow Etiquette (Manners)
During the Flag Song, or Indian National Anthem, the American Flag is raised or lowered. Please stand and remove hats during this event. Show respect to the Flag, Honor, and Veterans songs by standing until the song is completed. Pictures should NOT be taken during Veterans Songs, Flag Songs, Prayers, or any other time announced by the Master of Ceremonies.
If you wish to photograph a dancer in regalia, ask first. If the picture is for publication or commercial use, that should be explained before the picture is taken. Remember common courtesy and ask permission. Group photographs are usually alright to take, but you might want to ask first. People are sensitive about pictures, so it is always good to be on the safe side and ask.
If you see a lost feather, or you yourself drop a feather, do NOT pick it up. Notify the nearest Staff Member, Veteran, Head Man Dancer or Arena Director immediately.
NO alcohol, firearms or drugs are allowed at Powwows.