Sacred Circle Gallery holds Daybreak Star's curated exhibits of Native American art, featuring contemporary and traditional Native American art by a wide range of internationally recognized and local artists.  We are proud to have sustained support through 4Culture. 
Nancy Clark  Exhibit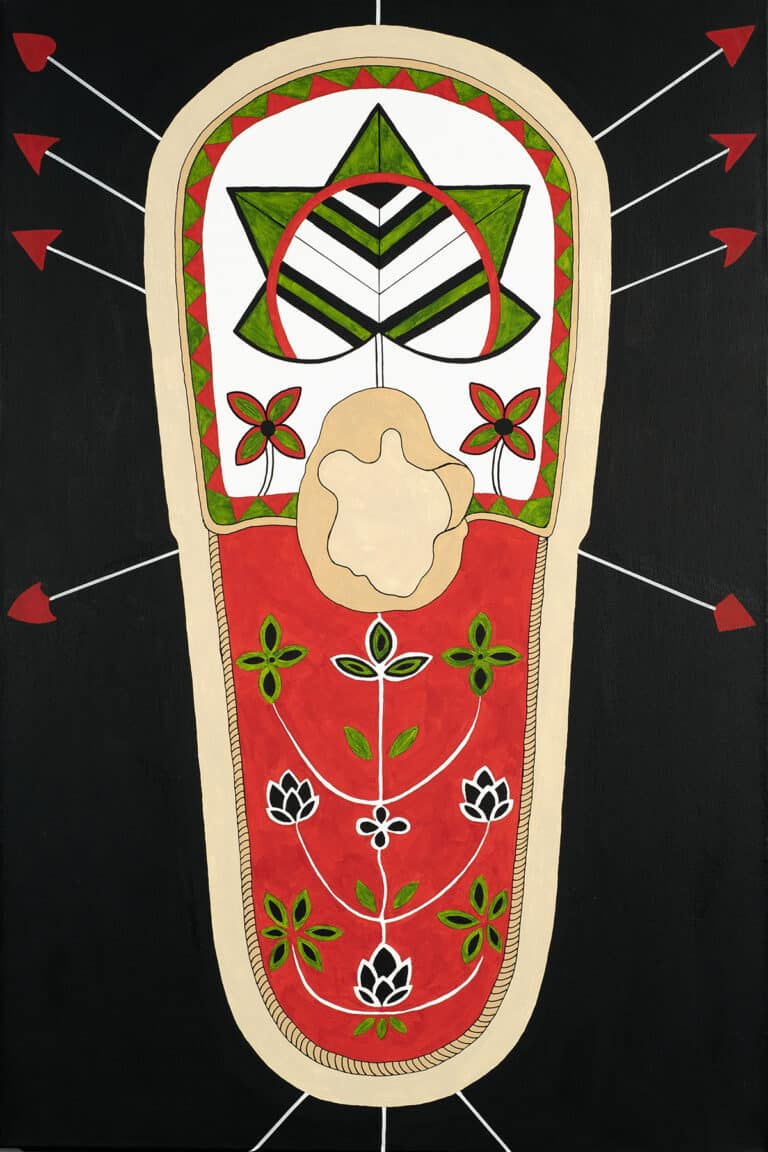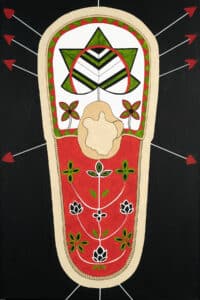 Sacred Circle gallery is proud to announce a solo exhibition of Nancy Clark's paintings and prints from April 7 through June 30, 2023. Clark's intent for this show is to honor her family history, her Blackfeet heritage, and advocate for fellowship and respect for the interconnected natural world as we adapt to climate change. Clark tells her story through her visual language by synthesizing the decorative patterns of traditional women's arts into powerful graphic paintings and prints that resonate from time immemorial to the future we are living today.

Biography

Nancy Josephine Clark is an enrolled member of the Blackfeet Nation, born and raised in Spokane, WA. She earned her BA in Art, MFA in design, and teaching certificate from the University of Washington – Seattle. In her early career, Clark focused on painted fabrics, including quilts, wall hangings, and wearable fabrics. She later expanded to printmaking, gouache painting and mosaic. She has exhibited at the McColl Center for Visual Arts in Charlotte, SC, the State Capitol Museum in Olympia, the Northwest Arts and Crafts Center at Seattle Center, and the Henry Art Gallery in Seattle. Her large archival print Respect hangs at the Seattle University School of Law.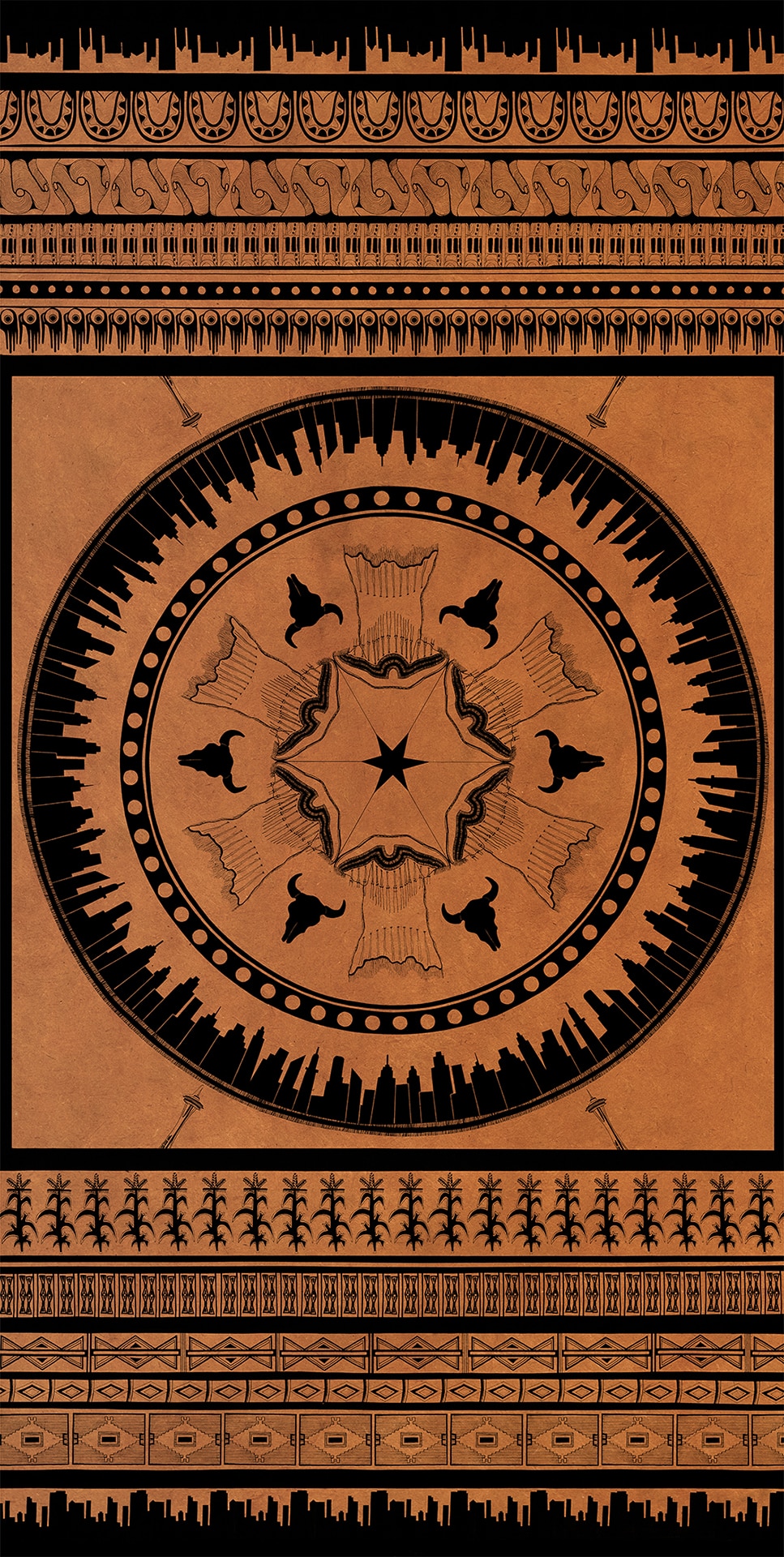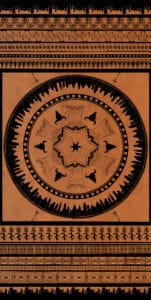 Alongside her art career, Clark taught art and language arts in elementary and secondary
schools.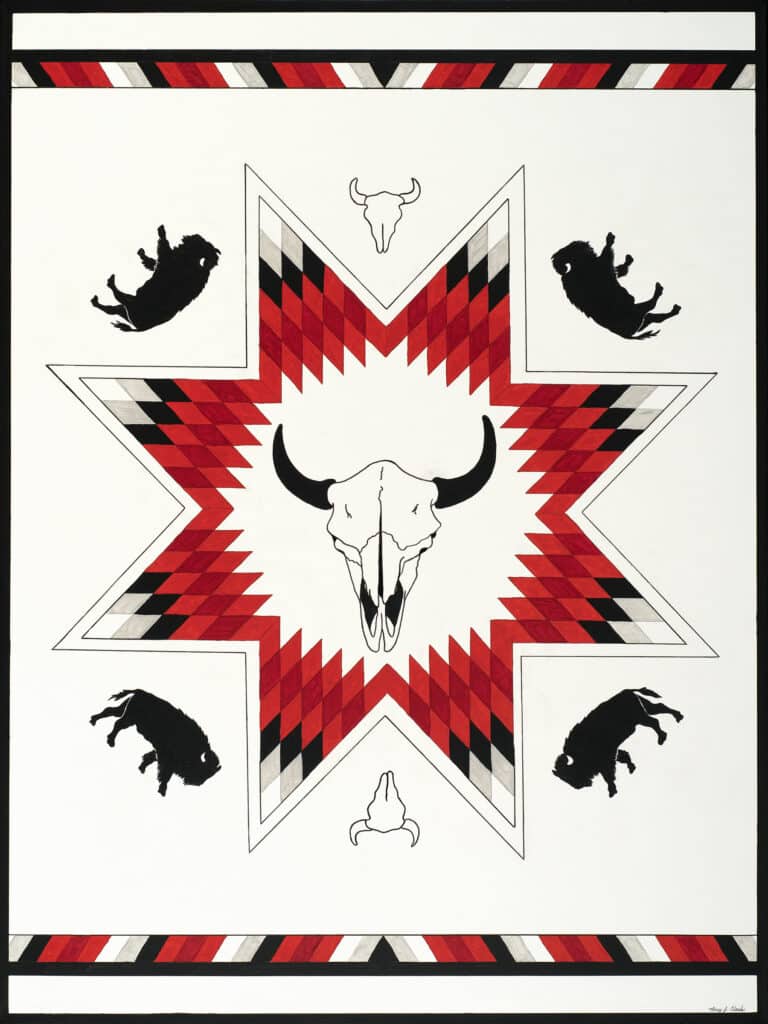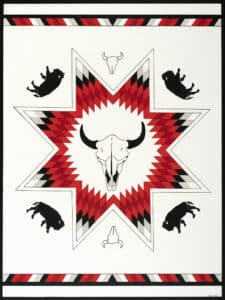 Her children's books teach multi-sensory reading and visual literacy. Clark received the "Power of Art: Education of Students with Learning Disabilities" award from the Robert Rauschenberg Foundation for her work teaching art to dyslexic children.


ARTIST STATEMENT
The artwork I am creating today is dedicated to honoring the history of my family. I am an enrolled member of the Blackfeet Nation. American Indians today are advocating for change that would respect their past and provide a better future for all American Indians. I feel I can help bring awareness and visibility to past injustices for Blackfeet as well as other Native communities in a positive, effective way by creating my own art prints influenced by historical Indigenous arts and crafts from Blackfeet as well as from other Nations. I combine these new images and patterns with contemporary drawings to demonstrate Native American survival through resilience, resourcefulness, and reinvention.
This art exhibit is primarily inspired by my grandmother, Josie Wright. Josie was Blackfeet, and she is my example of someone who had to reinvent herself to survive and succeed as a young American Indian. When Josie was only 11 years old, her mother dropped her off at a ranch in Montana, where Josie would serve as a domestic helper. With quiet determination, hard work, and a positive outlook, my grandmother's life went well. She became a lifelong friend of the famous cowboy artist Charlie Russell, and she was Russell's model for Native women in his paintings. Russell, beyond being an artist, was an advocate for American Indians, supporting the bid by landless Chippewa to have a reservation established for them in Montana, which later became law.
The show also honors my father, Russell Tharp, who was brought up by Josie Wright and my grandfather, Fred Tharp, on the Flathead Indian Reservation in Montana (my father was enrolled in the Blackfeet Nation). In my father's early 20s, he continued to get into "a lot of trouble" (his words), and he moved from Montana to Spokane to attend Business School. Because of his long friendship with Blackfeet Chief Earl Old Person, he was able to keep in constant contact with the Blackfeet Nation and his friends. This was very important to him and our family.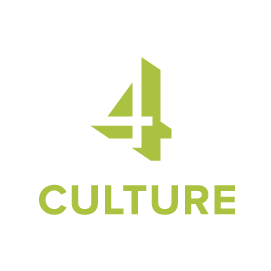 Next Exhibit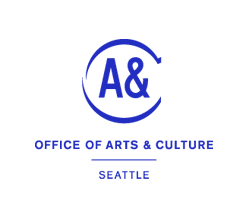 The next artist at the Sacred Circle Gallery will be announced soon. This exhibit will be generously supported by the City of Seattle Office of Arts and 4Culture.
Native American Art Mart
Come visit Daybreak Star Indian Cultural Center for all your gift ideas!  In addition to our Gift Shop, we regularly host Artist and Craft Market in our building.  Support your local indigenous community!  Art prints, original works of art, clothing, drums, jewelry, and much more!  Traditional food on site and entertainment throughout the market.  CLICK HERE FOR MORE INFORMATION
Call for Artists:
ATTENTION: NATIVE ARTISTS
CALL FOR ART at the Sacred Circle Gallery!

Our goal is to revitalize the Sacred Circle Gallery by incorporating as many voices of the local Native community and beyond through visual, performance, and literary art. We hope to bridge relationships with other art institutions and galleries across the state and country. This gallery is a space where Native people can express their sacred and sovereign identities without limitations.
The works we are seeking at the moment include:
Visual Art – paintings, drawings, prints, and photography.
Sculpture and carvings
Local Literature – books, publications, poetry, and zines
Handmade jewelry and wearable adornments
Custom clothing and regalia
Audio Recordings – drum groups, local Native musicians of all genres, language lessons
Weavings and textiles
Pottery
Greeting cards, small gifts, toys and ornaments
Please share and send all inquiries to [email protected].
Permanent Collection
In 1975 the City of Seattle's 1% for Art Program allocated $80,000 for the Daybreak Star Center for an original collection of Native American Art across cultures. Native American artists were selected through a national competition to create a group of works representative of contemporary India and Alaskan Native art. The Daybreak Star Arts Center opened to the public in 1978.

Stay connected with Sacred Circle on Facebook and Instagram!