Community Events at Daybreak Star Indian Cultural Center in Seattle.

Foster Parent Training: Self Care for Caregivers
November 17, 2022 @ 5:30 pm

-

8:00 pm

PST
This training focuses on basic self-care topics and strategies with an awareness of the extra demands kinship and foster care places on the caregivers.  We will have a tradition dinner and a welcome song by Anthony Bluehorse.  The training will start at 5:30 at Daybreak Star in the staff lounge area. Capacity for this training is 20 participants. Register here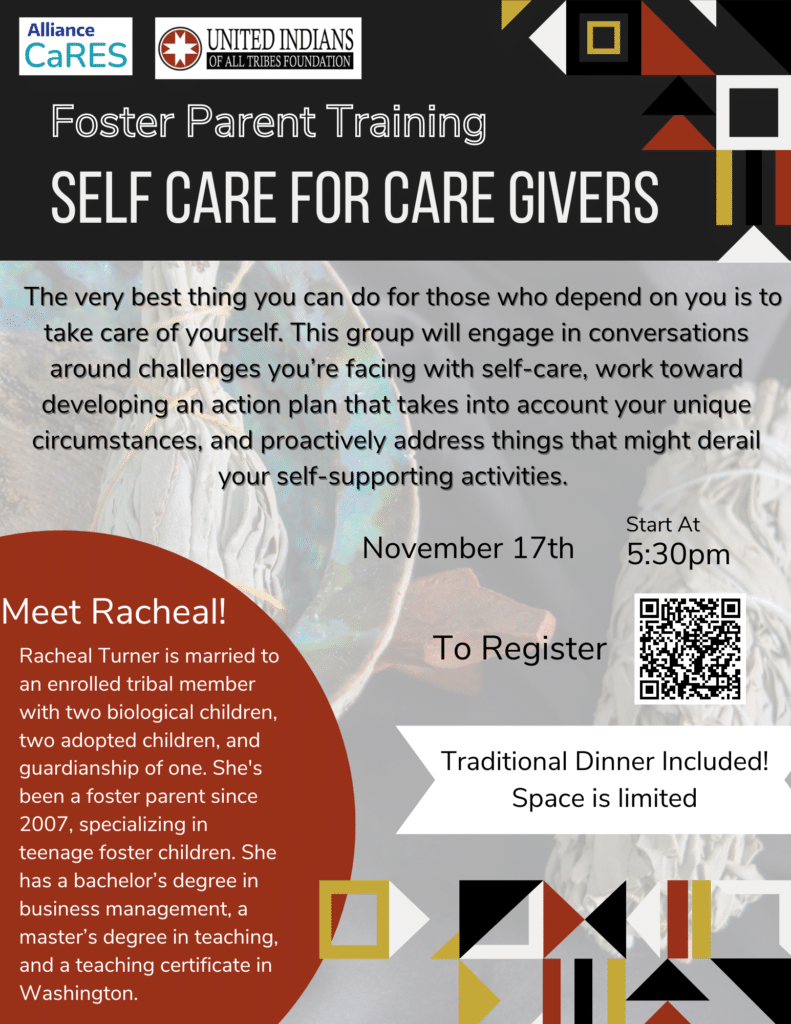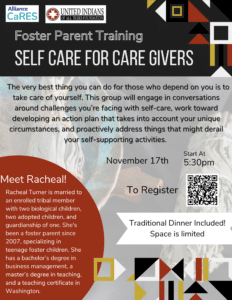 Self-Care for Caregivers Description
The very best thing you can do for those who depend on you is to take care of yourself. This group will engage in conversations around how to make sure you see how valuable your contribution is, as well as also how demanding it can be. You can talk about challenges you're facing when thinking about self-care, because real life does sometimes make it hard to prioritize. You'll work toward developing an action plan that takes into account your unique circumstances and proactively addresses things that might derail your self-supporting activities.
Facilitator Racheal Turner
Racheal Turner is from Port Angeles, WA. She is married with two biological children, two adopted children, and guardianship of one. She and her husband have been foster parents since 2007. They specialize in teenage foster children. She has a bachelor's degree in business management, a master's degree in teaching, and currently holds a teaching certificate in Washington State. She and her family enjoy racing, camping, hunting, fishing, and the outdoors.