In 1975 the City of Seattle's 1% for Art Program allocated $80,000 for the Daybreak Star Center. Native American artists were selected through a national competition to create a group of works representative of contemporary Indian and Alaskan Native art. The Daybreak Star Arts Center opened to the public in 1978.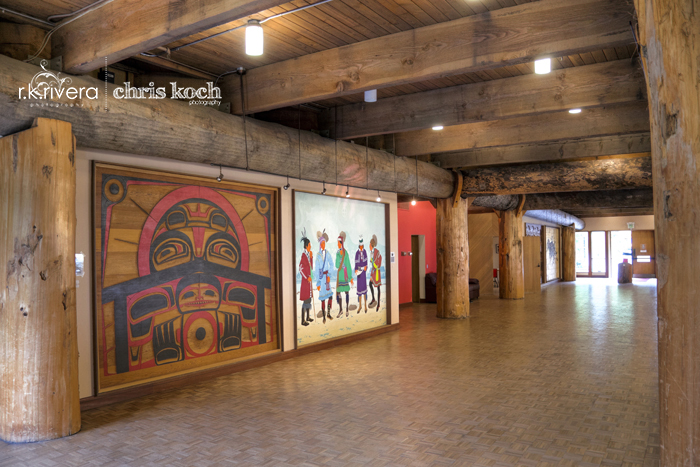 Our permanent collection is on display when the building is open, and is free to the public.  For more information on touring Daybreak Star we recommend the STQRy application.
When visiting the Sacred Circle's collection, you can see the diverse spectrum of styles from over 360 tribes in North America. This collection should not be identified as purely contemporary. Rather, it demonstrates a progression of art. Although a majority of the artwork was created within the last three decades, it has been influenced by a cultural and artistic heritage that reaches back through thousands of years. Our collection is a potent example of the timeless essence of all art.
Artists include painter Andrew Morrison, who had an exhibit at the Sacred Circle Gallery in 2014, as well as Roy Henry Vickers (Tsimshian) and Glenn Lafontaine (Plains Cree). Vickers' painting, The Origin of Daylight, 1977, references the Tsimshian legend of the Origin of Daylight:
The earth used to be in constant darkness. The daylight was kept in a locked wooden box that belonged to the Chief of the Heavens. Wy-Gyt, a cunning young man, hoped to capture the box by marrying the Chief's daughter. However, the Chief knew of Wy-Gyt's desire for the box so he prohibited the marriage.
But Wy-Gyt devised an alternative plan: he turned himself into a pine needle, dropped into a river, and floated downstream where the Chief's daughter was drinking. The daughter swallowed the pine needle, became pregnant, and gave birth to the Chief's grandson- Wy Gyt as a baby boy. Eventually, Wy-gyt stole the box of Daylight, put on his raven cloak and flew from the Heavens back to Earth.
When he returned to the dark land, he was very hungry. He asked the Frog people, who only gathered food in darkness, for some of their food. The Frog people refused, so Wy-Gyt broke open the wooden box and daylight came.
To learn more about Roy Henry Vickers' painting, or other art in the Permanent Collection, stop by the Daybreak Star Cultural Center today!