Get Ready for our Annual Gala
Spirit of Community
Saturday Sept. 16th, 2023 
at Daybreak Star
Save the Date.
More Info Coming soon!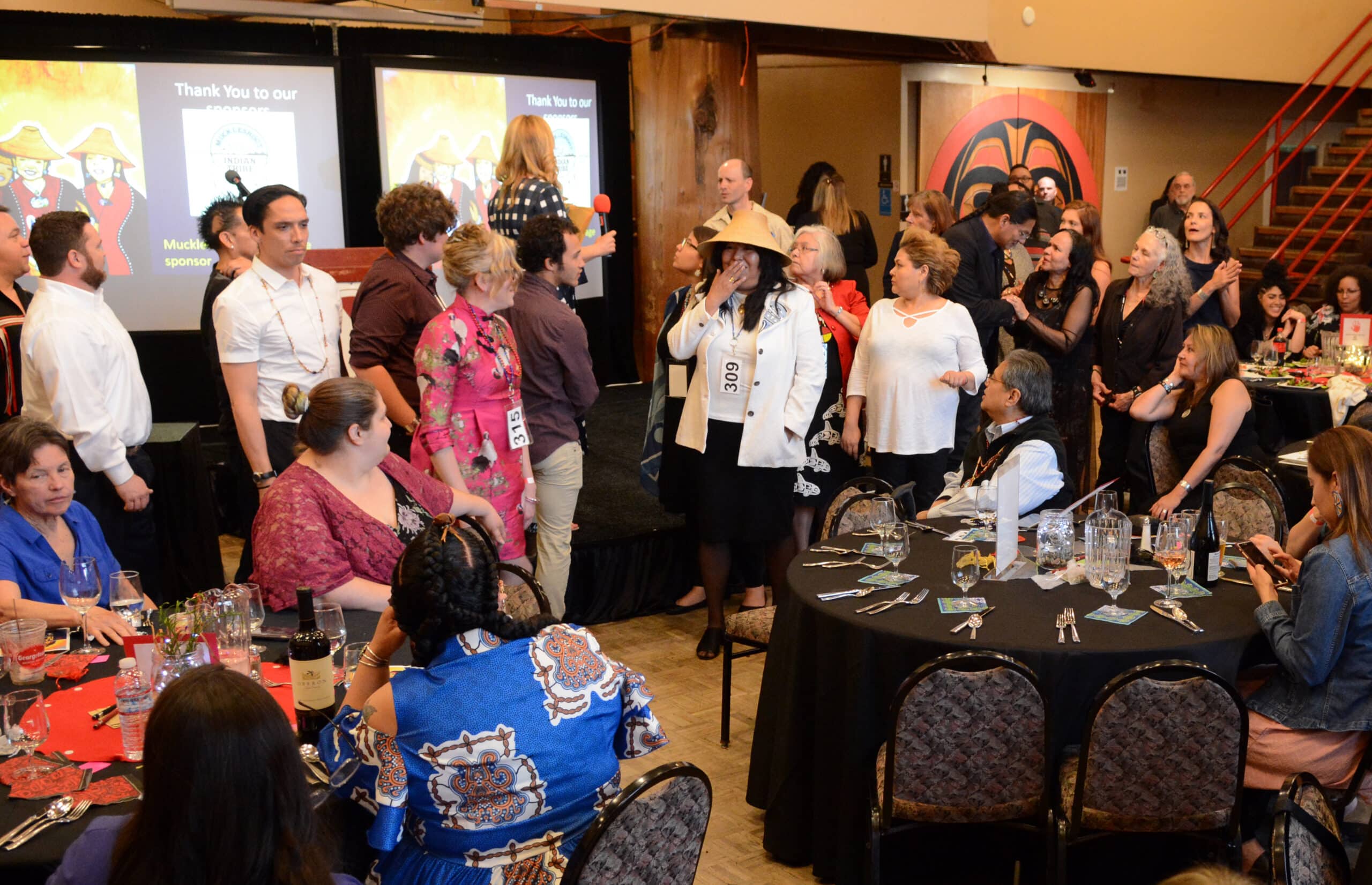 2021 History Virtual Gala
WE'RE. STILL. HERE.
5/10/21 – "Where Have We Been?" Monday's live is an intimate conversation between our board's Chairwoman, Abriel Johnny + original fence jumpers from the 1970 Fort Lawton Takeover, the protest that literally paved the way for UIATF's existence. 
5/11/21 – "What Are We Taking With Us?" Tuesday's live is a panel about Indigenous language survival. Already at risk prior to COVID-19, it has become an even more perilous as we struggle against a disease most deadly to elders, who are relied upon for cultural preservation.  
5/12/21 – "How Are We Healing?" We'd be remiss without a discussion about the incredible work of Native doctors and healers in keeping our people well and coordinating a notoriously swift vaccine roll-out. Speakers will include Dr. Socia Love of Seattle Indian Health Board and Dr. Dakotah Lane, Health Director of Lummi Nation.
5/13/21 – "Where Are We Now?" In line with our broader theme, we want to ground ourselves in the present through a roundtable with Native elected officials about contemporary Indigenous struggles. Speakers will include longtime former Sen. John McCoy + Rep. Debra Lekanoff.
5/14/21 – "Where Are We Going?" Friday's stream is a conversation between Oscar-nominated filmmaker Ava DuVernay (When They See Us, 13th) and rising star Jana Schmieding (Rutherford Falls) about retelling narratives often deleted from or distorted in "textbook" history. How we approach the telling of our past has a major impact on our ability to envision a future together, and we're turning to two BIPOC women of Hollywood for insight about that process. 
Our annual Native Life In The City fundraiser is a vital source of revenue for United Indians' programs and operations. For the last 50 years UIATF has been the feet on the ground, providing and growing services that are asked for and created by our community. Each year UIATF serves over 1,000 clients through our 13 programs, and traditionally welcomes more than 10,000 guests to our community events and through the doors of the Daybreak Star Indian Cultural Center in Discovery Park. Though the pandemic prevented in-person gatherings and celebrations we continue to serve our clients and community in safe effective ways.  
You can donate in these different ways:
On our website – https://unitedindians.org/donate-now/
Or you can mail a check to: Native Life In The City Gala, PO Box 99100, Seattle, WA 98199
We are a Washington nonprofit corporation and a 501(c)(3) organization, with federal tax ID number 91-0889016. All donations are fully tax-deductible to the extent allowed by law.