In 2014 the Seattle City Council voted unanimously to change the second Monday in October to Indigenous Peoples' Day.  As Councilmember Kshama Sawant told the Seattle Times, "Learning about the history of Columbus and transforming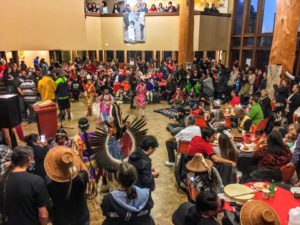 this day into a celebration of Indigenous people and a celebration of social justice … allows us to make a connection between this painful history and the ongoing marginalization, discrimination and poverty that Indigenous communities face to this day." This change in designation resonates all the more in Seattle, which is named after Chief Seattle of the Duwamish and Suquamish Tribes and sits amidst the lands of numerous sovereign nations. Before 2014, Native activists gathered annually at Seattle City Hall on the second Monday in October for a rally to demonstrate the critical importance of changing the focus of the day. As Michael Vendiola (Swinomish) said in an interview with filmmaker Dallas Pinkham  (Yakama, Southern Cheyenne, Nez Perce, Grand Ronde, and Potawatomi),"Tribal people were able to come together and think about what could be addressed with renaming that day from Columbus Day to Indigenous Peoples' Day, and I think that's an empowering process, that folks are able to express themselves and have their voices heard, to strengthen the community ties. That whole process was about unifying the community, and also building allies with the non-Native communities."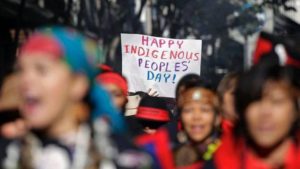 United Indians of All Tribes Foundation has been honored to host the Indigenous Peoples' Day evening celebration at Daybreak Star since 2014. This year we will be honoring two activists, Luana Ross, Ph.D, and Jeri Moomaw, whose work and activism revolve around Indigenous women. We look forward to continuing this yearly celebration and remembering the importance of local activists in the creation of Indigenous Peoples' Day!
Berkeley, California, was the first U.S. city to recognize the second Monday in October as Indigenous Peoples' Day in 1992, and now four states and over fifty cities have recognized it to show their support for Native communities rather than the colonizers of their lands. Native American communities and allies have protested Columbus Day (first federally recognized in 1937) since its inception, for celebrating an individual who enslaved, sold, and mistreated thousands of Indigenous people in the West Indies after his arrival in 1492. Celebrating and honoring Christopher Columbus not only covered up his actions against Natives, but also solidified the myth of the "discovery of America," which ignores that people had been living on this land for thousands of years prior to Columbus's arrival.
Save the date for the 2018 Indigenous Peoples' Day Celebration!