From her work as the Indian Child Welfare Program Manager at United Indians early in her career, through her long tenure as a social worker with the Department of Social and Health Services, Pauline American Horse has served the Native community in a number of ways.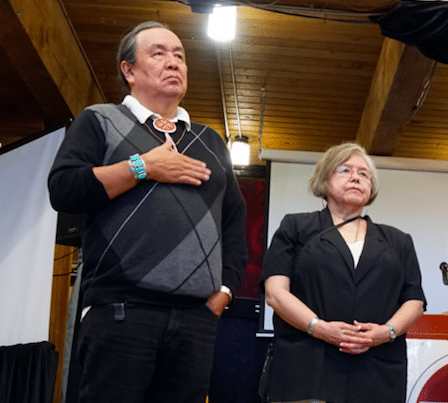 Pauline first became involved with United Indians more than thirty years ago.  Some of her earliest memories of United Indians revolve around her volunteering at the Powwow and Art Markets: "Bernie [Whitebear] would ask for help.  And, because of who he was, we always said 'Yes!'"  Pauline served tirelessly and without pay as United Indians' interim executive director in 2016 and 2017.  And today, as Chair of the Board of Directors, Pauline continues to contribute to United Indians' work supporting Native individuals and families throughout the Puget Sound region.  In preparation for Native Life In The City 2019: Powered By The Wisdom Of Womxn, and because of Pauline's professional and personal commitment to empowering Native women, we interviewed her to hear her thoughts on education, the value of mentorship, and the survival and power of Native women. 
UIATF: How does the work of United Indians support women within the Native community? 
PAH: United Indians has always been a strong supporter of women. Because of Bernie's strong commitment, he would assist women in promoting their profession, often encouraging them to further their education. Education was and is important to United Indians. 
We support families through the preschool and our Tribal Home Visiting program.  And we have helped women through our Workforce Program, assisting them with job training. 
UIATF: Currently you serve as the Chair of our Board of Directors.  How important is it to have women in leadership positions within nonprofits and social services organizations like UIATF? 
PAH: Very important.  And I am very proud of the number of Native women in leadership positions at United Indians, from our Operations Director to our Financial Manager. I don't know if you are aware, but women in the Native community are strong, with a tough, persuasive voice.  We have been through hell and back – [think of] our missing Native women! We have survived and persevered. It is an honor to be connected to United Indians, knowing we are inclusive, efficient, and transparent with our funders, community and families.
UIATF: At this year's Native Life in the City gala, we are honoring the important role women have played in our organization and in our communities. Can you give an example of the ways women have supported you throughout your career, and how this has shaped your life? 
PAH: My mother was so important in my development. She always supported me and encouraged me to keep moving forward. My sister was and is my supporter, she always encourages me. School was not easy for me, and to cry on her shoulder made a difference. As a social work student, I volunteered with the Indian Women's Service League.  These women – Pearl Warren, Ella Aquino and Dorothy Lombard, among others – developed the Seattle Indian Center.  Without these women, we would not have the Seattle Indian Health Board, the Seattle Indian Center, or United Indians of All Tribes. It was because of their voice of what our community needed that these organizations were formed. 
My first mentor was my practicum instructor, Andrea Ebona-Michael at the Seattle Indian Center. She did a presentation regarding birth control to Natives at the Thunderbird Treatment Center. When she was done, she just stated, "This is your job from now on!" It was also during this time that there was a Women's March and she indicated I could make a speech regarding the sterilization of Indian women.  It was difficult for me to stand in front of a group and talk about birth control and the sterilization of Indian women.  But it helped me grow as a social worker, enhanced my knowledge of our history, and developed my speaking skills. When I became a more seasoned social worker, I admired Ramona Bennett – a force to be reckoned with.  And Cecile Hansen, a strong voice for her tribe [the Duwamish Tribe], is incredible. 
Even though I mention these women, I have many [more] who supported me, many of my peers, several of my female supervisors.  Those women that made a difference in the world. 
UIATF: How important do you feel it is to honor the women in our community, and the women who have contributed so much to United Indians in particular? 
PAH: It is incredibly important. We have suffered and survived. Our accomplishments are overwhelming. We have Claudia Kauffman, a former Democratic Senator and Vice-Chair of United Indians Board of Directors; Debora Juarez, City Council, former United Indians Board of Directors [member] and strong supporter of United Indians; Ramona Bennett, Cecile Hansen, and so many more. I love these women.  And I think everyone needs to know we have come from nothing, to seats in the House and Senate.